AFTER SCHOOL MARTIAL ARTS PROGRAM
(Ages 5—13 years)




Our Mission Statement
To provide an after school karate program that concentrates on developing positive character skills, physical fitness and good study habits.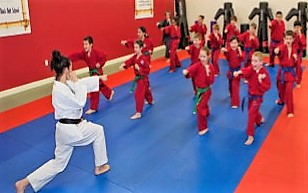 BENEFITS OF THE AFTER SCHOOL PROGRAM
- Structured Environment


- Physical Fitness




- Discipline




- Teach Respect for Self & Others




- Increase Self-Esteem




- Successful Life & Leadership Skills




- Convenient & safe transportation provided from local schools
2017 - 2018 School Pick-Up List
ELEMENTARY
INTERMEDIATE
MIDDLE
Mary Jo Sheppard
Donna Shepard
Wester
Willie Brown
Asa Lowe
Linda Jobe
Nanch Neal
Alice Ponder
Busho Kai is a state licensed facility and CCMS approved. We pick up students directly from their grade school. Upon arrival to Busho Kai, students are given a snack time (parent provided) and then change into their uniform. They will then attend a 45 minute martial arts class with our world class instructors! After class, students are given time to complete any homework they may have, read quietly, or play in an activity center until parent pick up.
Martial Arts Benefits
Children who participate in our after school program are full-fledged martial arts students. They develop physical skills like strength, flexibility, endurance, balance and coordination. Teachers also help students increase focus, self-discipline, and respect for themselves and others.
Wholesome Relationships
Our students come from schools from around the Arlington area. They quickly form friendships at the dojo which can last a lifetime. The skills and values we teach our students help them choose and develop friendships which are wholesome, supportive and nurturing. We emphasize the importance of self-discipline, doing what is right and making the commitment to be a person of honor and integrity. These life skills will benefit your child at school, at home, in other sports and in LIFE!
---
---
SPACE IS LIMITED!!!!! ENROLL YOUR CHILD NOW!
The Busho Kai USA 'After School Program' provides a 'safe' and 'secure' environment for your child. Provide your child with a daily organized and professionally supervised period that will give you 'peace of mind' and enrich their learning.
Please call our Dojo Officer at 817.473.7400 or email This email address is being protected from spambots. You need JavaScript enabled to view it. to schedule your child's seat TODAY!
---
---